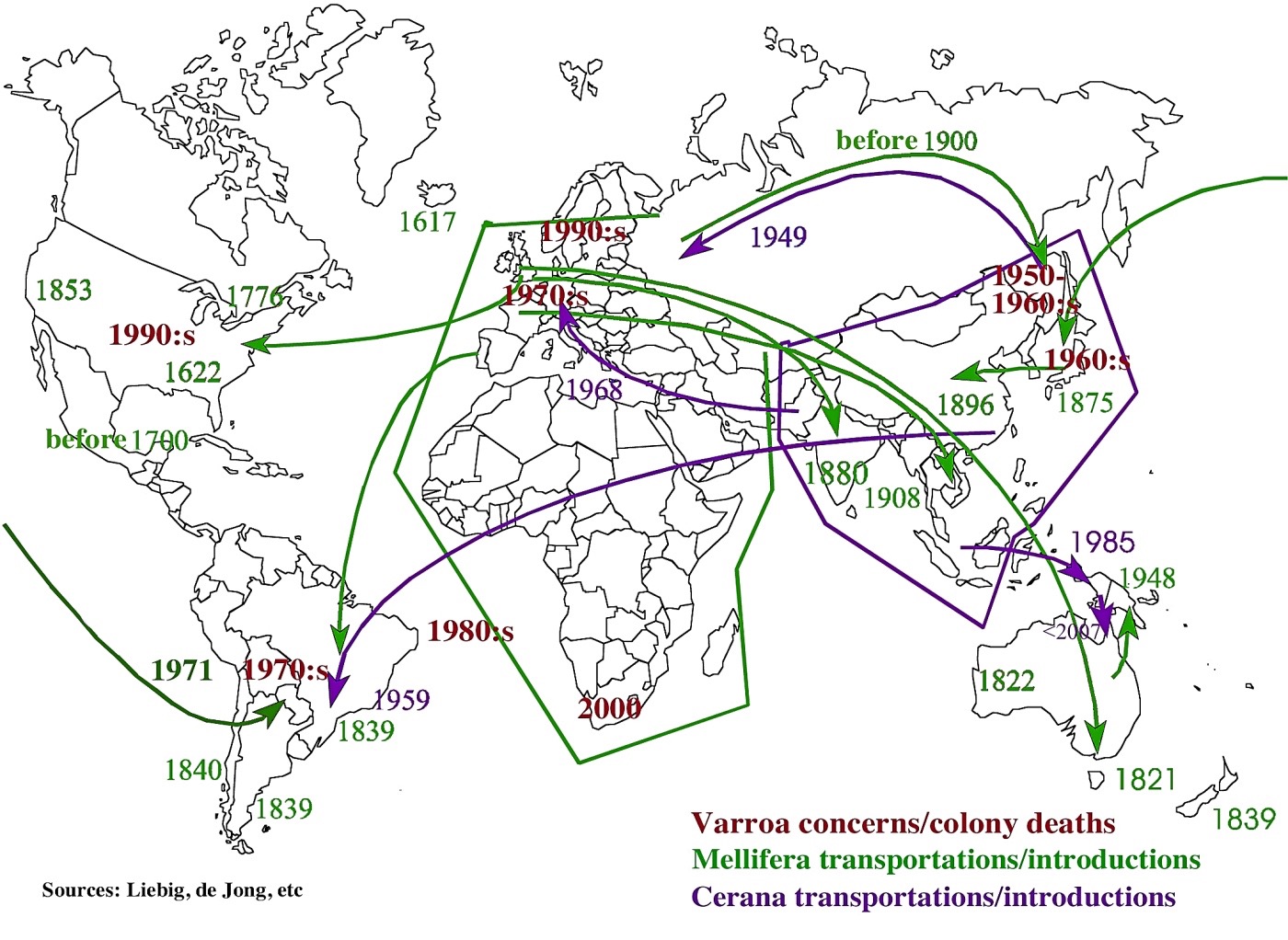 Origin of Varroa
The original host of the Varroa mite is the Asian cousin of our bee, Apis cerana. Cerana and Mellifera are so closely related that they even mate sometimes, but the offspring embryos only develop very little before they die. It is discussed which honey bee is the more original than the other, cerana or mellifera.

In the 19th century our western honeybee, Mellifera, was taken to different places in Asia where the eastern honeybee, Cerana, lived, Japan, Primorski, India, etc. Transports continued. More bees were brought to Primorski area and bees were brought back closer to Europe from there. Cerana was brought to western countries for research.

In the middle of the 20th century, about 100 year after the initial transportation of Mellifera bees to Asia, these bees began to develop big problems from the mites, in Asia, and in Europe. 1968 a Cerana colony was brought to Germany by a scientist and in 1973 the first colonies died there because of varroa. But the mites were close by in the Balkan countries anyway, Primorski types of mites. And soon they had reached Finland too.

Why did it take almost 100 years to create real problems in our type of bees? Whatever reason, it was probably more than one, as is often the case. Of course mites were transferred to Mellifera right away when they met Cerana. Of course mellifera bees sometimes robbed cerana colonies and vice versa.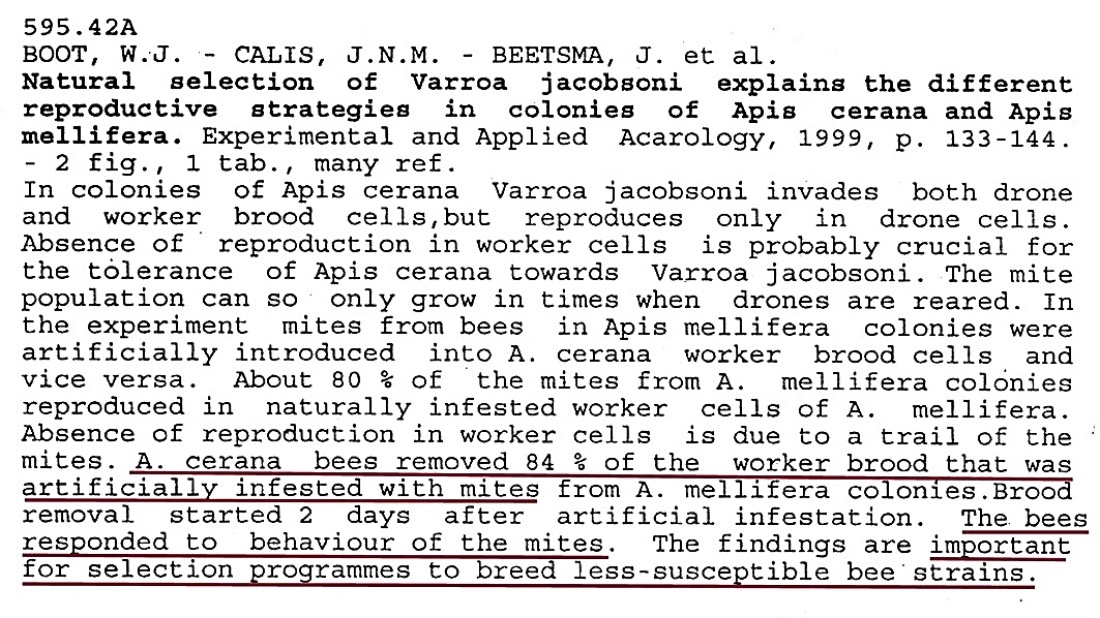 The chemical mistake
The Europeans did a big mistake back then in the 70:s. They only focused on chemicals to fight the mite.
We aquiered some good knowledge quite soon about how Cerana fight it. Bees can fight it. They are not like sheep trying to fight wolves. They can be good fighters. Already early on it was evident cleaning out of invaded brood cells is one key trait. One variety of this is today called VSH (Varroa Sensitive Hygien). But chemicals were in the front. The South Americans in Brazil were the first to show us a non-chemical solution for the bees.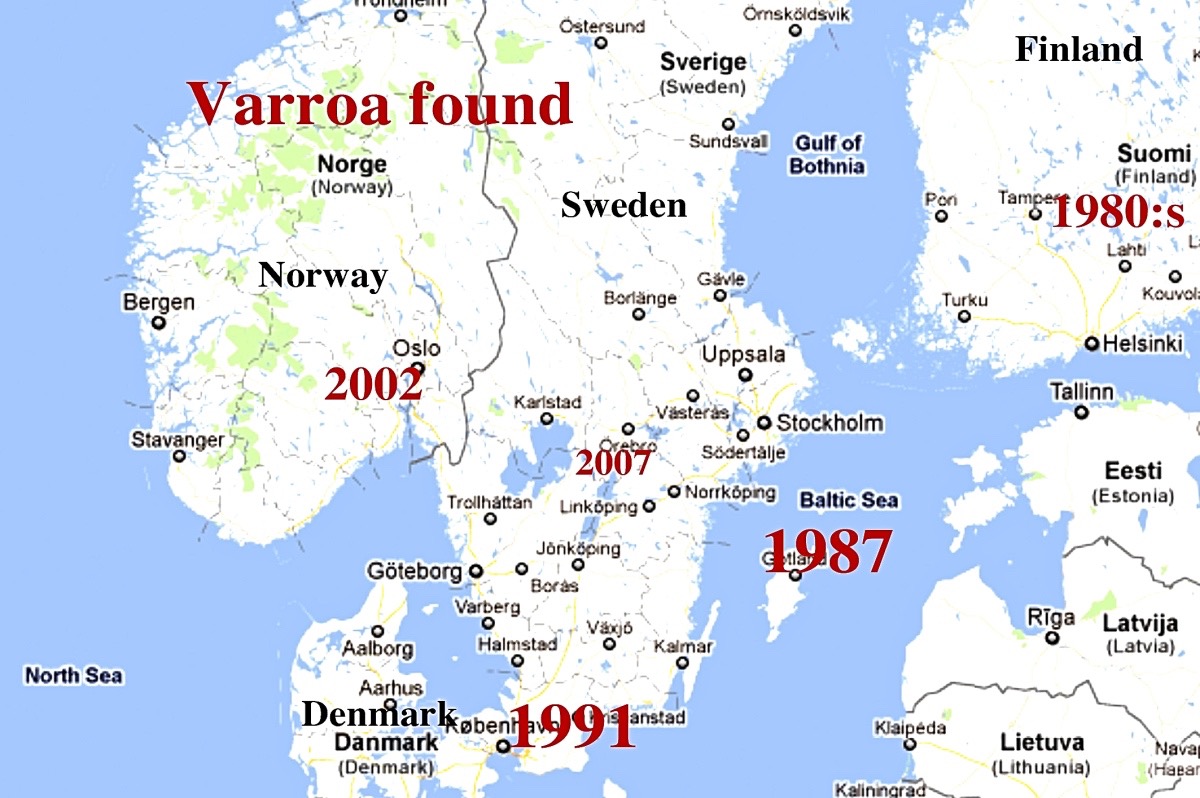 To Sweden
Of course Sweden would not be left out of the fellowship of Varroa fighters. In 1987 the mite reached the port of eastern Gotland, the island in the Baltic. 1991 it reached the port of Malmö, on the mainland of southern Sweden. 2007 it was seen in my apiaries.

We had about 150 000 bee colonies and maybe 14 000 beekeepers in the 80:s. Today we have maybe 120 000 colonies and 11000 beekeepers. Many beekeepers have had worse winter survival problems after the arrival of the Varroa mite. No surprise. Not only Varroa though is responsible for die offs. Maybe the high death rates have declined somewhat recently. Could that be due to that the standard cell size on wax foundation has become 5.1 mm instead of previously for many years 5.4?
Chemicals in Sweden
We have had two approved so called veterinary medicins to fight the mite, Apigurd, which is an organic treatment based on thymol, and Apistan, with the active ingredient tau-fluvalinate. Today Varroa mites are showing resistance to Apistan at several places in Sweden.

Recently, three additional drugs have been approved for sale for use in hives. Apivar with the active chemical Amitraz. VarroMed - a solution with primarily oxalic acid, but also some formic and essential oils. VarroMed is intended for use in a similar way as an oxalic acid solution, ie dropped in comb gates with bees when there is no brood in the colony. Polymer with the active chemical flumethrin, a pyrethroid. Tau fluvalinate is also a pyrethroid, so Polyvar can not be used successfully in areas with Apistan-resistant mites.

Besides approved drugs, we can use what we call "not forbidden" chemicals, organic types, supposed low poisonous chemicals. But how low poisonous they are could be discussed. In this group we find organic acids and essential oils.

The beekeeper can prepare treatments with these substances for use in bee hives against varroa, but prepared mixtures and preparations with this purpose may not be sold. Just like the beekeeper can mix oxalic acid solutions, you can make dish cloth pads with thymol.