Apis mellifera monticola
The Varroa mite had just arrived to Sweden and scared us as the AIDS of bees, not aid of bees. It's still the big challenge for our western honeybee. Anyway I just got a gut feeling I had to have bees that could handle the mite themselves to be able to continue being a beekeeper. So when Michael van der Zee 1988 wanted to go to Kenya for Monticola bees I looked around in Sweden for people to join the team. I had met van der Zee the year before in connection with Brother Adam getting his honorate doctorate at the Swedish University of Agriculture.

The breeding material we managed to get was aimed for Buckfast Abbey, but also for ourselves. Many contributed with funds, but we also put in money ourselves into the expedition. In March 1989 Dr Bert Thrybom, Erik Bjorklund, Michael van der Zee and I went for two adventurous weeks to the high mountains in Kenya. Why Africa?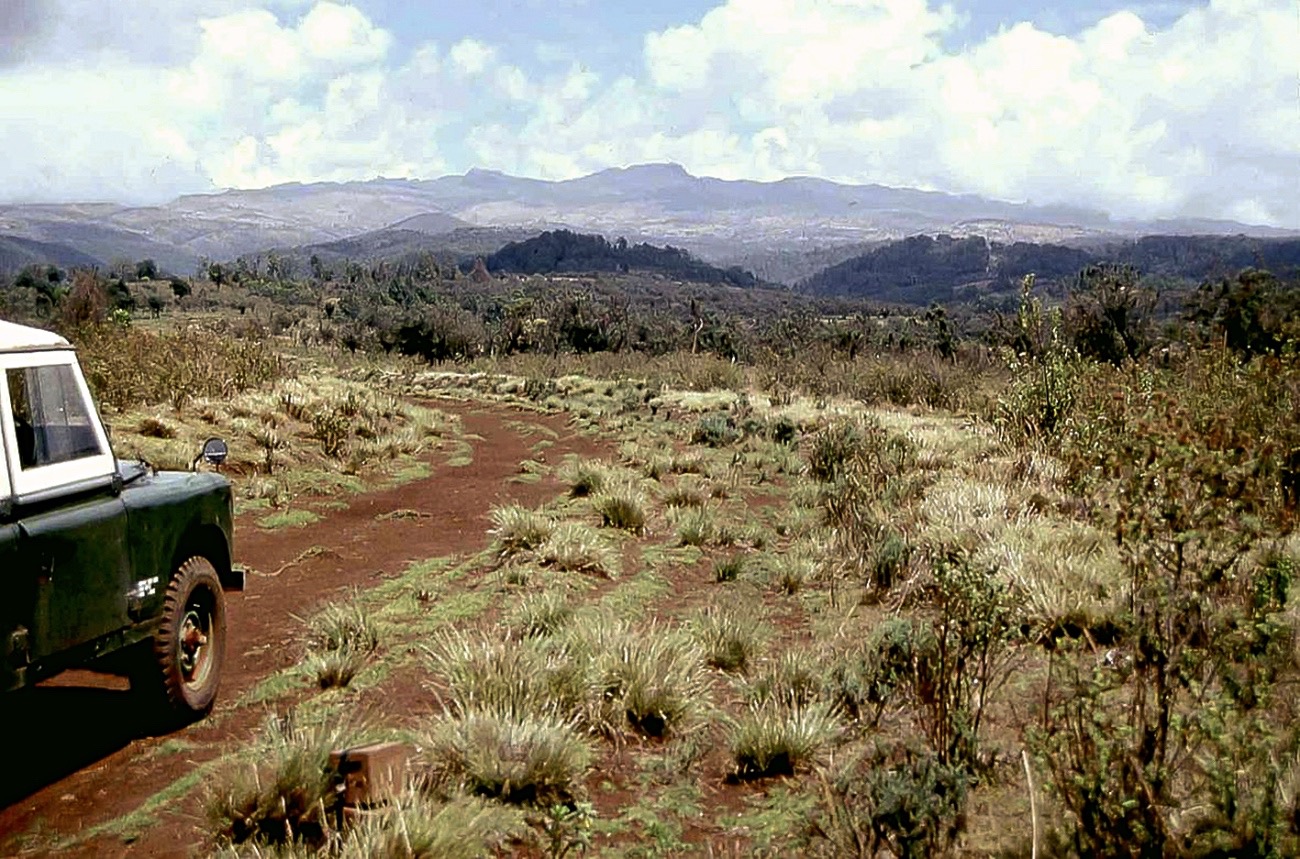 Almost on 3500 m altitude on Mt Elgon not far from the abandoned village where there had lived beekeepers keeping insulated stock hives in the trees. The top of the mountain can be seen in the background. Almost every night there's frost. Almost every afternoon it's raining.
There are millions of swarms flying back and forth in Africa as well as more stationary types of bees. The genetic treasury is huge. Man has not been able to erode the genetic variation here through too intense selection and inbreeding. A small fraction, and not the best one, of African genetics were let loose by accident in South America and lay the ground for what Hollywood called killer bees.

The African bee is not the original host of the varroa mite. It is closely related to our western type of bee. It is also an Apis mellifera bee. Not an Apis cerana bee. And this Apis mellifera managed to adapt into a resistant type of bee in only a few years in South America, maybe 5 years or so. Of course it's interesting to find out under what circumstances a mellifera bee in only a few years can develop resistance? Something valuable would be learned.

Anyway, that was the reasoning behind going to Africa for breeding material. Something was present in Africa that made bees develop resistance relatively quickly. We didn't know what. We didn't like aggressive bees or bees that easily absconded, so we went for a bee that doesn't abscond and is relatively easy to handle. We went to the mountains of East Africa, to Kenya.

Later resistance developed in African bees again, now in South Africa, in about 5 years. And now also the Varroa mite has arrived to east Africa and the bees there have shown themselves to tolerate the mite well.

Today we most probably know the cause for the ability to develop varroa resistance quickly. Natural genetic diversity, epigentic processes and small natural cellsize.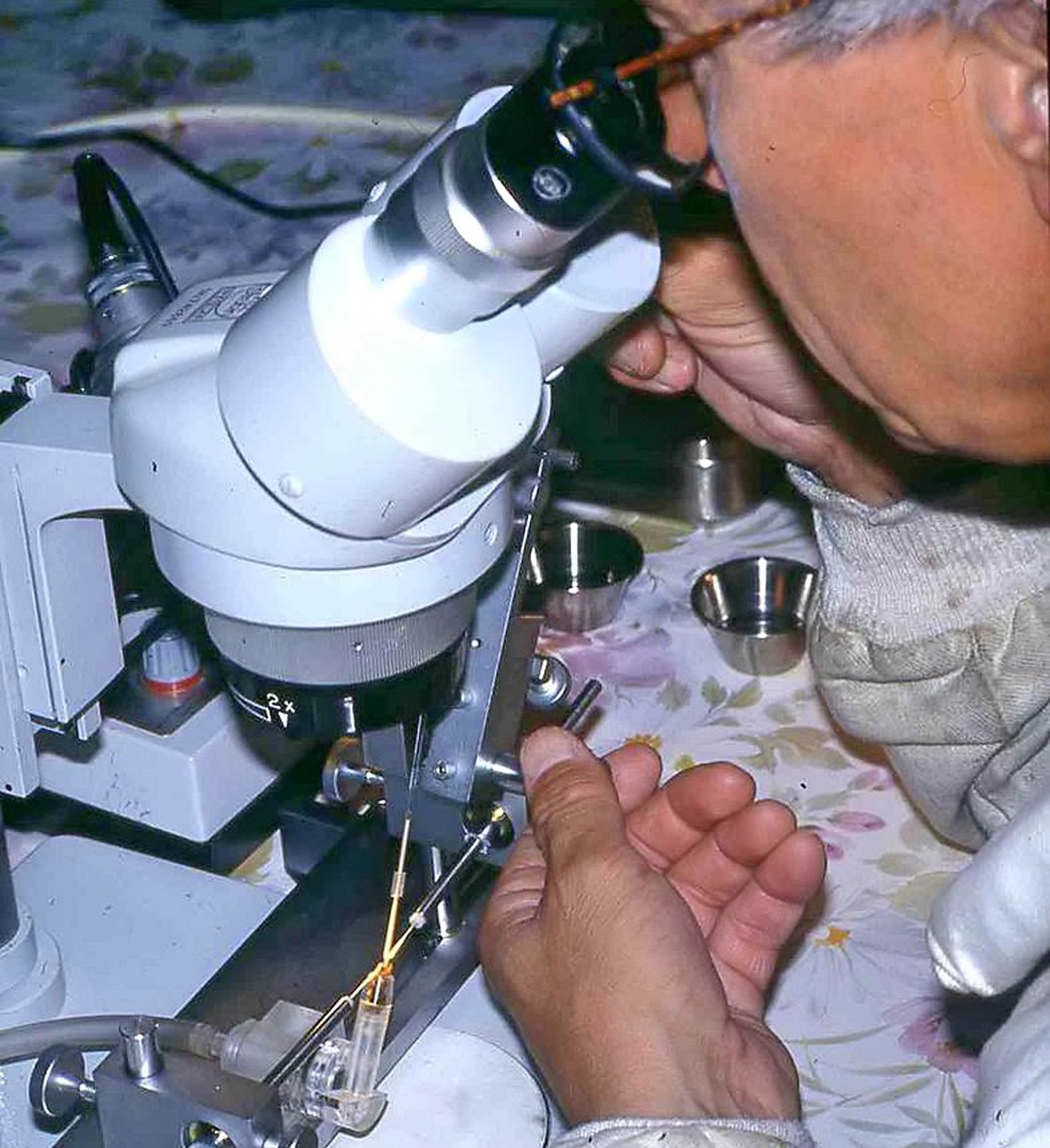 Dr Thrybom inseminating the two queens I managed to produce with semen we collected in Kenya.
We took eggs and young larvae to Sweden and I managed to produce a couple of virgins in late March early April. Dr Thrybom gave the semen glucose to make it movable again after the more than 14 days it had been travelling. He inseminated the queens with Monticola semen. Again larvae from the mating nucs were grafted later in spring and daughters were inseminated, as well as mated naturally still later that year. Many interesting observations were made.

The pheromones of the queens were apparently different as some virgins were not recognized as queens and ignored in the mating nucs. Some larvae were not well fed, some didn't hatch, etc. So I understand we were lucky that we were able to produce the first two at all.

Initial findings told us the development time of the brood was shorter. After some years of selection the stock the bee breeding club and I produced was wintering even better than the Buckfast bees we had before. Surprisingly the new bees also had an even lower swarming tendency. This was in line with the observations made in Africa where the log hives of the Monticolas we saw many times were filled with combs, while the logs of lowland bees (Scutellata) were not.
The conclusion is that if you begin with a big genetic variation and use selection you can get where you want in not too many generations.

The experiences from South America and South Africa make us understand that more processes are going on in the adaptation process than only recombination of nucleus DNA. One process that is much discussed these days, or rather processes, are what is called epigenetics, changes in environment changes how and if genes are expressed. And these changes are inheritable, until the environment changes again. Only nucleus DNA changes can't explain such a rapid development of resistance that the African bees showed in South America and in Africa. The epigenetical systems must be very powerful in adaptatation processes. That also makes us understand that the kind of bees we want are those that have adapted to the environment where they live.
Cell size
In the magic year of 2000 I reached the age of 50. I fled the celebrations and went to the Sonoran desert in Arizona together with my family. I had heard of a remarkable woman and her husband keeping bees there. Of course I was curious and contacted them to know what they were doing. I happened to ask if it was possible to visit and there we were hitting the wall of heat when walking off the plane. We were met by a couple of very hospitable bee cowboys.

Dee and Ed Lusby made good friends and learned us a lot. I got into searching the old sources of beekeeping buying old books from Barnes and Noble and Amazon. Cheshire, Cowan and Wedmore are some of the old British authorities I've learned from. Langstroth, Root and Phillips are some of the Americans. Read them if you have the possibilities. Some books can be found free on the internet.

Lusbys really wanted you to go for smaller cells, in the broodnest especially. I've done it and whatever effects it has, I don't want to go big again. I get quicker spring build up and very strong colonies. The bees don't swarm easier when handled with lots of room.