6. Starting with almost zero mites
After thinking a lot on the experiences of Leif Hjalmarsson I concluded I had to try to make a relatively isolated bee yard as mite free as possible with an effective miticide and see what happened. I hated to do that, but I couldn't dismiss this option to learn more about achieving Varroa resistance.

NEW STRATEGIES
After considering the six points I have been discussing above, six different strategies formed. I started one in 2014. Another in 2015. The rest in 2016.
A.
The first new strategy involved one apiary on an isolated place far into the forest. Started in autumn 2014.
– An isolated place. Treat with thymol pads when varroa level is above 3%.

B.
The second new strategy was performed in one of my ordinary apiaries that is (was} quite "isolated" (2 km/1.5 miles). It started in autumn 2015.
– Begin with almost zero mites. Treat with thymol pads when varroa level is above 3%.

C.
The third new strategy in two small apiaries.
– Treat with thymol pads when varroa level is above 3%.

D.
The rest of my apiaries I planned to manage as I had done in previous years and treat when I see more than two wingless bees. When I only see one such bee I would do a bee shaker test and treat when the varroa level was above 3%.
– Manage as previous years, but when one wingless bee was seen monitor the varroa level and treat when it was above 3%.

E.
The colonies that I decided in the fall would have their queens replaced the following year, I would treat with thymol pads in May the following year before the queen replacement could take place. The reason was to give the new queen a good start. 15% of the colonies were managed this way in spring 2016. Winterlosses 2015-2016 was about 10%. It was about the same percentages in spring 2017.
– Treat with thymol pads in spring all less good colonies which would have their queens replaced a little later in the season, without monitoring the varroa level (Those queens have anyway previously shown that varroa populations grow too quickly in their colonies.)

F.
Splits are taken only from the best resistant colonies and placed in the same apiary as their mother colonies. Such splits will make their own new queens. If the new queen fails to be laying, such a split receives a mature grafted queen cell. As before, the least good colonies get their queens replaced by bred queen cells after the old bad queen has been removed.
– Splits from the best colonies are placed in the same apiary as the mother colonies.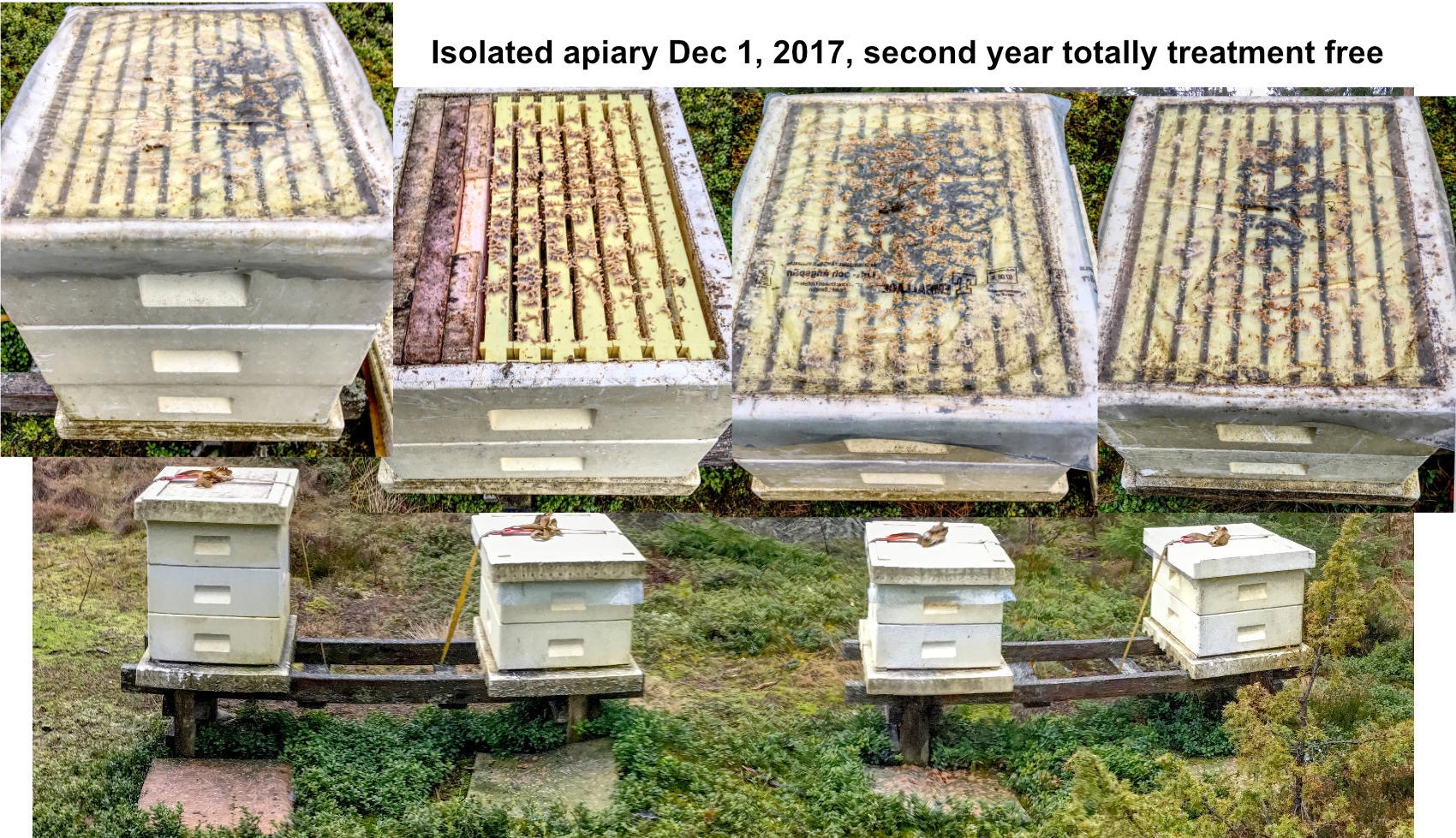 A – Isolated apiary, treat above 3% varroa level
Will isolation and never allow the varroa level to reach high levels in any colony, make it easier to reach a treatment-free situation?
A project was started in the autumn 2014 involving LP:s biodling (a bee equipement dealer), me and a beekeeper named Arne Andersson. A report about this project will probably come on this site or/and other media. The project is continuing. One part of it involves an apiary I give a report from here.

I started this apiary with three colonies in the autumn of 2014, all on 4.9 mm cell size and somewhat different heritage. The colonies were splits with new queens. The colonies had not been treated during 2014 so I didn't know the Varroa level. They had not shown any wingless bees during 2014.

The apiary is placed in a forested area where it's normally difficult for the bees to survive. 2016 was as well a bad year as 2015, but in 2015 the heather flow gave a crop. 2016 was a bad year with almost no harvest at all. In 2017 spring was cold, summer was cold and dry, no summer harvest but a fall crop from heather, which though wasn't as good as in 2015.

During 2015 splits were made from all three colonies. One failed and got a new mature queen cell. But the split was weak when wintered and didn't make it till 2016.

Of the six colonies (including the splits) in 2015 four showed DWV-bees and 3% or higher Varroa level in June. One of those that showed wingless bees though had only 2% Varroa level.The mother colony of this one had a high VSH degree (80%). Other daughter colonies also showed wingless bees at low levels of varroa. This has led me to speculate that very high VSH can cause other genetic disadvantages, and that it is better with moderately high VSH and to combine this with other resistance traits. The four colonies with DWV were treated with two pieces of thymol pads with 5 grams of thymol each in June. The thymol pads were replaced with new ones 10 days later.

In 2016 it was possible to make splits from three colonies. They had enough strength. Varroa level in spring was 0-0.3% in the five colonies. Of the three splits two failed to raise queens in spite of that also new ripe queen cells were given to them. In the six resulting colonies the varroa level in autumn was 0-1.5% (the sixth colony with 1.7%).

As we had decided not to keep more than five colonies in the apiary I gave away the 1.7%-one to Arne Andersson. He tested it with short term treatment with formic acid to get another evaluation of the mite population. It dropped 10 mites from that treatment.

2017: Of the 5 colonies that was wintered in this apiary in autumn 2016 (the sixth had been moved to Arne), the strongest died of defecation. It had stood only a few meters from a forest "road" where a forest harvester had been driving during harvesting logs. The speculation is that the colony was severely disturbed in its winter rest. One of the four remaining had a failing queen (a split from the year before). In early May, this colony and the strongest one shifted place, so the bad one got all good field bees. The bad queen was taken away and the now queenless one got a good brood comb with both hatching brood and eggs to make a new queen from. This worked very well. The two remaining colonies had old queens that these colonies tried to supersede later in the season, but the new queens were lost probably during mating flights. Those two colonies got new egglaying queens introduced and an extra brood comb. They are number two and four (from left to right).
The varroa level was 0-1% in the summer, so no colony needed treatment. The strongest colony in the picture (wintered on three medium boxes [frame 448x159mm]) was the strongest in the spring. It was the one that changed place with the one with failing queen above. It later superseded her queen successfully. So now there are new queens in all 4 colonies. The season was so bad that it was not possible to make any more splits. No wingless bees were seen in any of the colonies.
Isolation has given good protection against reinvasion and a stabilazation on a varroa level well below 3%.
B – Somewhat isolated apiary, start with "zero" mites
Will somewhat isolation, a start with very low varroa level and quick treatment at a varroa level above 3% make it easier to become treatment free?
I choose an apiary that was quite isolated, 2 km from a couple of my other apiaries. In autumn 2015 I treated all colonies with an effective miticide giving mite drops ranging between 150 and 600 mites plus one 800 (in spite of thymol treatment earlier for this one). The 800-one was a swarm I caught, which probably came from another Elgon beekeeper in another area. I just happened to hive it in this apiary in 2015.

I had treated some of the colonies with thymol earlier in the season, but not the one giving 150 mites. That colony gave also a bumper crop in spite of the bad year, so I considered it a breeder actually.
I didn't measure the Varroa level in spring 2016 as the treatment had been of such an effective type the autumn before.

I made splits from those colonies I judged to be the three most Varroa resistant. I sold the three least varroa resistant colonies, but left one box of each with enough bees and brood to make a queen (it was in the middle of May) with the intent to replace the resulting new queens later in the summer.

I killed the queens in the rest of the colonies in June and gave those a grafted mature queen cell a week later. The swarm I didn't touch because I didn't know enough much about it. I was prepared to replace the queen.

In autumn I checked the Varroa level in this apiary with the Bee shaker. With the three splits the number of colonies now was 11 in the apiary. Four of them had 0% mite level, four had 0.3%. The three remnants from the colonies sold were so weak I didn't want to take any bees from them to check their varroa level. I decided to check them in spring if they survived and decide what to do then. They gained strength during the rest of the autumn and survived the winter well.

All colonies that were wintered in this apiary looked fine in spring 2017. But one tried to supersede the queen too early in spring and failed because of lack of drones and too low a temperature for mating. I sold two whole colonies. I made splits (Including the queen) from the best three colonies. I made one split including the queen from a below average colony, which I sold. The rest of the mother colony got a ripe grafted queen cell (a queen of better genetics). This split including the queen which I sold was later reported by the beginner that bought it that it gave a crop of more than 50 kg (110 pounds). Two queenless splits of the three from the best colonies failed to produce a laying queen and got laying queens introduced. These two splits were judged to be too weak to even take 300 bees from to monitor the varroa level in August, but they looked healthy (they had been without brood for a long period) and in harmony in October. I ended up wintering 10 colonies in this apiary. In August 4 of them had 0.3-1.4% varroa level. A colony had 3%. 3 colonies had more than 3% and received a thymol treatment of two pads times two, altogether during three weeks.

Later, I learned that another beekeeper had established (elgon) an apiary 1 km from this apiary in a different direction from my two apiaries 2 km away. It may well be part of the explanation for the dispersion of the varroa levels among the colonies. The colony with 1.4% was had not been taken any split from and it gave more than 100 kg of honey, top in the apiary. No wingless bees were seen in any colony.

To treat with an effective mite pesticide to bring down the varroa level to almost zero (to get a good start on your breeding work) seems to be of little value, at least if you don't have your apiary in an isolated place with more than 2 km to other bees (3-5 km).
1 km to another beekeeper is "too close", but the variation of varroa levels give room for good selection as there were enough many that had a very low varroa level to make a continued selection successful. There is no need to start the selection work with "zero" mites.
C – Small apiaries where the starting varroa level is what it is
Monitor the varroa level, thymol pads when it's above 3%. Make splits from the best colonies which make their own queens. Replace queens in the least good colonies. Will this strategy take the colonies in these apiaries closer being treatment free.
Another two small apiaries I decied I had time to keep track of concerning the Varroa level with the help of the Bee shaker.

APIARY 1
Three colonies in 2016. It is the apiary close to the source of the feral swarm from the wall. At a distance of 1 km in another direction there is another elgon beekeeper with a small apiary.

The first colony in this apiary had a daughter of this feral swarm. The second had a new queen mated in this apiary. The third colony was a weak colony that barely survived winter. The first colony was quite weak as well, but grew strong much better.

Spring 2016, mite levels: Col. 1 – 1%, Col.2 – 0.3%. Col.3 – . I didn't measure col. 3 because it was quite weak.
Autumn 2016, mite levels: Col.1 – 0.3%. Col.2 – 1.1%. Col.3 – 4.7%. Colony 3 got thymol treatment as the mite level was above 3%. No colony showed any DWV-bees.

2017: All thre colonies were split. Splits of col. 1 and col. 2 were meant to make their own queens. The split of col. 1 failed and dwindled down to nothing. Both parts of col. 3 got mature grafted queen cells.
Spring 2017, mite levels: Col. 1 – 1.1%, col. 2 – 0.75%, col. 3 – 0.5%
August 2017, mite levels: Col. 1 – 1.7%, col. 2(new) – 1%, col. 3A – 0.3%, col. 3B – 1,7%, col. 2(old) – >3% – thymol. No DWV-bees in any of the colonies. Colony 1 gave by far the highest crop.

APIARY 2
Two colonies in 2016. At a distance of 0.5 km there is an apiary of another elgon beekeeper.
Spring 2016, varroa levels: Col. 1 – 0.3%, col. 2 – 1.7%.
A split was made without the queen from col. 1. It succeded in producing a laying queen, but was somewhat weak.
August 2016, varroa levels: Col. 1A – 1,2%, col. 1B – , col. 2 – 11,7% – thymol
Colony 1 and 2 gave about the same amount of honey.
2017: All three colonies survived the winter well. I decided no monitoring of the varroa level was necessary. Col. 2 was also decided to have its queen replaced and therefore got thymol pads in May. The queen was removed and the colony got a mature grafted queen cell in beginning of June.
August 2017, varroa levels: Col. 1A – 5% – thymol, col. 1B – 2.3%, col. 2 – 1.7%: Colony 1 had a quite old queen and replaced her probably in 2016. It gave a good crop of honey. No DWV-bees in any of the colonies.
Both apiaries are most probably influenced by the neighboring apiaries. The variation of the varroa levels seem to be big enough to allow for progress in selecting for varroa reistance to increase. It seems it's working treating when the varroa level is above 3% and in May in those colonies that will have their queens replaced in June.
D – 2-3 DWV-bees –> tymol. 1 DWV-bee –> Bee shaker (above 3% use thymol)
E – Planned replacemednt of queen –> thymol in maj, mature queen cell in June
F – Splits place in the same apiary as the mother colony
The splits are made from the best colonies.. The queen goes with the split, which is placed on a new place in the same apiary as the mother colony.
During 2016 and 2017 I used the strategies D, E and F in the rest of my apiaries. This resulted in that I was more careful to find out when I should use thymol or not. When I saw a wingless bee I didn't wait to see what happened in two weeks or so. I monitored the varroa level with the Bee shaker.
– Fewer colonies developed higher varroa levels and thus fewer became a resource for reinvasion.
– Also when seeing more DWV-bees I was quicker in using thymol pads, with the same result – fewer reinvasion sources.
– And in May I used thymol pads on colonies I had decided should have their queens replaced – giving the new queens a better start and lower mite pressure in the apiaries.

The breeder S241 gave many good daughters concerning lower mite levels in 2016. The breeders used in 2016 increased the varroa resistance as well, H131, S183 (a daughter of S241) and C243. In 2017 I used mainly H131 again, S411 (another daughter of S241) and C290 (a daughter of C243). Feedback from buyers of queens have been encouraging.

A lot fewer colonies have needed treatment for varroa in 2016 and 2017, in spite of the fact that I have had kind of lower threshold values for using thymol pads. A lot fewer DWV-bees have been observed. The winter losses have been about the same for many years, 5-10%. But during thes later years fewer colonies have been very weak in spring (about 10%), which need thymol and barely are surviving. Earlier years this number was about 20%. Such colonies will not give a crop. About half of these colonies usually recover after they get a new queen.

There are some apiaries in which all, or almost all colonies have needed treatment. That is apiaries at the edge of the elgon area and closer to apiaries with other types of bees. Some of the beekeepers may have had problems controlling the varroa levels.

It's difficult to see any evidense that the strategy to place splits in the same apiariy as the mother colony has had any positive effect on the varroa levels and the resistance of the bees. Probably it's more adverse to regularely move whole apiaries, for example for pollination purposes, as this leads to at least temporarily more drifting among the colonies and evening out of mite levels.

CONCLUSION:
– Monitor varroa levels at least twice, Maj (April), (+ maybe june) and August (September).
– Treat with thymol pads when the varroa level is above 3% (maybe 2-2.5% in May [April]).
– Make splits from the best (most resistant and high producing) colonies. Let them raise queens.
– Breed extra queens from some of the best colonies.
– Replace queens in the bad (least good) colonies
– Try to establish a breeding apiary at least 3 km (2 miles) from other types of bees.
A BREEDING APIARY